As usual, I'm always very glad to have a copy of the free magazine from Cold Storage supermarket. The bi-monthly magazine Savour - Sep/Oct issue has few interesting recipes ....
Here's sharing this Curried Pumpkin and Apple Witch's potion. Actually it is pumpkin & apple soup ! I've made pumpkin soup but haven't tried pumpkin & apple combination. What interest me further ... there's curry powder & coconut milk in the ingredients.
CURRIED PUMPKIN AND APPLE WITCH'S POTION
(Adapted from Savour magazine by Clara Luboff & Karin G Reiter)
Ingredients serves 6 - 8
(I made 1/3 of the recipe with slight modification in blue) :
1 tablespoon coconut oil
(I used 1 tablespoon olive oil)
1 large brown onion, chopped
(half)
2 garlic cloves, crushed
1 teaspoon curry powder
1.5kg pumpkin, peeled, seeded and roughly chopped
(450g)
3 red apples, peeled, cored and roughly chopped
(2 small red apples)
5 cups water
(400ml)
1/2 cup quinoa flakes
(replaced with rolled oats 20g)
270ml coconut milk
(90ml Ayam brand light)
Sea salt, to taste
Green onions, finely sliced (optional garnish)
Method:
1) Heat oil in a large saucepan over medium heat. Add onions and garlic and cook for 3 - 4 minutes
2) Add curry powder and cook for 1 min or until fragrant.
3) Add pumpkin, apple and water, and cover with a lid. Bring to a boil, then simmer over medium-low heat for 25 - 20 minutes, or until pumpkin is tender.
4) Remove from the heat and allow to cool slightly. Blend until smooth and return to saucepan.
5) Stir in quinoa, coconut milk and salt and bring to a boil. Cook for a further 2 - 3 minutes, or until quinoa is tender. Top with green onions and serve.
The curry powder just has no spicy effect (just 1 teaspoon). So I think with or without curry powder doesn't really add to the "spiced" flavour though. Overall, this soup with thick pumpkin and apple puree, coupled the nice fragrance of coconut milk and rolled oats tasted really delicious.
On some days if you wish to just have a bowl of low in sodium and high in fiber yummy soup ... try this pumpkin & apple soup. Enjoy!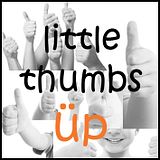 This post is linked to the event, Little Thumbs Up (September 2014 Event: Apple) organized by
Zoe (Bake for Happy Kids), Doreen (My Little Favourite DIY) and hosted by Kit (I-Lost in Austen).
and
I'm linking this post with