A few years ago when I took a short break (about 5 months) from the workforce, my ex colleagues presented me 3 cookbooks in cakes and desserts recipes for my farewell. I needed a break then to help my girl focus on her studies and preparation for the PSLE (Primary School Leaving Examination). Well, I guessed it's the 'typical stress' that most Singaporean parents, if not all, had experienced when their 12 years old children sit for these school examinations. It was a wise choice then as that's when I developed the interest in baking.
Occasionally I would flip through the pages of the cookbooks to try new recipes but I'm quite selective cos most western recipes are rather rich in sugar and butter for cakes or desserts. Chance upon this Orange Yogurt Brûlées recipe using low fat yogurt. Looks pretty 'easy peasy' and gave it a try as it's my 1st attempt in Brûlées. The recipe calls for 4 individual heatproof dishes ... hmm.. gosh ... I don't have any. Searched through the kitchen cabinets and found a piece of rather appropriate Pyrex dish.
Here's sharing the recipe adapted from Martha Day with
slight modifications
:-
Orange Yogurt Brûlées
Ingredients (serves 4)
2 oranges
150ml low-fat yogurt
4 tablespoons half-fat crème fraîche
3 tablespoons
(2 Tbsp)
caster sugar
2 tablespoons
(1 Tbsp)
light muscovado sugar
Methods:
1) cut away all the peel and white pith from the oranges and segment the fruit, removing all the membrane.
2) place the fruit in the bottom of 4 individual flameproof dishes. Mix together the yogurt and crème and spoon over the oranges.
3) mix together the two sugars and sprinkle them evenly over the tops of the dishes.
4) place the dishes under a preheated, very hot grill for 3-4 mins or until the sugar melts and turns to a rich golden brown. Serve warm or cold.
Probably due to the reduced amount of sugar, hence, the top didn't seemed to be 'rich golden brown'. As usual, my big kids would be my first customers to sample my products. My 18 years old son commented "not sweet enough..". I tried a few spoonfuls ... hmm.. the natural sweetness of the oranges complimented the sourish yogurt tasted refreshing!
I'm submitting my 'ORANGE' post and joining The Little Thumbs Up for the first time.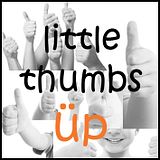 This post is linked to the event, Little Thumbs up
organised by Bake For Happy Kids, and

My Little Favourite DIY

, hosted by

Ann of Anncoo Journal
at this post.