In my teenage years, I remembered my late mom would always keep stocks of canned food in the pantry ...cans of luncheon meat, chilli cubed pork 五丁肉, sardines etc. Sometimes, she would cook the canned food with some other ingredients eg. onions, some red chilli with sardines ... mashed potato with luncheon meat patties ... or simply just heat up the canned food. Those were just some of her easy non fuss cookings.
I particularly loved the golden brown deep- fried patties. Could really gobble up a big plate of steamed rice just with a few of those patties :D
Mashed Potato & Luncheon Meat Patties
Serves 4 persons
Russet potatoes 2 big pcs
Luncheon meat 50g finely chopped or mashed with fork
1 egg - separate egg yolk & white
Corn flour 1.5 tablespoons
Salt 1/2 teaspoon
Dash of pepper
Shallots 2 small cloves finely chopped
Method:
1) Peel & cut potato into big chunks.
Boil potato in a pot of hot boiling water for about 12-15 mins or till soft.
2) Drain the water, place the potatoes in a big bowl, lightly mashed. Pour in the luncheon meat, shallots, pepper, salt and egg yolk.
Mix well with a spoon or fork. Add the corn flour and mix well again.
3) Heat wok or frying pan (medium flame), pour some cooking oil sufficient to cover the patties when deep frying.
Scoop 1 tablespoon full (a heap) and shape it to a small ball with fingers. Flatten it slightly and dip/coat it with egg white.
4) Deep fried about 3 mins or till both sides golden brown.
Lightly dap with kitchen towel to remove the excess oil. Depending on the sizes, this recipe yields about 12 pcs.
Love the shallots & luncheon meat fragrant, these patties are thinly crispy on the outside with mushy potatoes inside !
Though they are my favourite, I would make these occasionally as I believe to consume everything in moderation. My big kids liked these tasty patties too !
Cutie potato & luncheon meat patties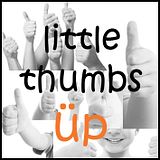 This post is linked to the event Little Thumbs Up (July 2014 Event: Potato) - organised by Zoe (Bake for Happy Kids) and Mui Mui (My Little Favourite DIY) and hosted by Jasline (Foodie Baker)