Almost every morning, I'm so used to having a cup of hot coffee for breakfast (be it freshly brew, instant mix or kopitiam kopi siew dai <coffee with reduced sugar and evaporated milk> as my "pick me up". Occasionally I would go with a glass of juice, chocolate milk or hot Milo. But still, can't kick off the habit of drinking coffee as my preferred beverage.
Flipping through the cookbook and found this recipe Cappuccino Coffee Cups dessert. These phrases caught my attention '
coffee
-lovers will love this one - and it tastes rich and creamy, even though it's very light"
Since I have coffee and left over crème fraîche, so decided to try out this creamy dessert.
Cappuccino Coffee Cups (adapted from Martha Day cookbook,
with modifications in blue)
Ingredients (serves 4)
2 eggs
215ml evaporated semi skimmed milk
(used evaporated full cream milk)
1.5 tablespoons instant coffee granules or powder
2 tablespoons caster sugar
2 teaspoons powdered gelatine
4 tablespoons light crème fraîche
Cocoa powder or ground cinnamon to decorate.
Method:
1) Separate one egg and reserve the white. Beat the yolk with the whole of the remaining egg.
2) Put the evaporated milk, coffee granules, sugar and beaten eggs in a pan; whisk until evenly combined.
3) Put the pan over a low heat/flame and stir constantly until the mixture is hot but not boiling. Cook, stirring constantly without boiling until the mixture is slightly thickened and smooth.
4) Remove the pan from heat. Sprinkle the gelatine powder the pan and whisk until the gelatine has completely dissolved.
(I should have dissolved the gelatine powder in 2 tablespoons of water instead of sprinkle directly in the pan cos could taste some lumps).
5) Spoon the coffee custard into 4 individual dishes or glasses and chill them until set.
6) Whisk the reserved egg white until stiff. Whisk in the crème fraîche and then spoon the mixture over the desserts.
(I don't prefer raw egg, I used whip cream 250ml, whisk till stiff peak, whisk in the crème fraîche).
Sprinkle with cocoa or cinnamon and serve.
I could barely fill upto half the glass of coffee custard in each glass (about 7cm in diameter ) Gosh ! Only 3 glasses. When my girl saw these, she commented "so little?
The three of us can't wait to have a glass of Cappuccino and we didn't realised that it was almost 9pm. We finished these in less than 5 minutes. Immediately we could feel our fullest. The texture was really rich and creamy. Oh ! Realised we had "drank coffee" at this late hours when my boy commented "could taste the coffee".
Well, perhaps I should use the small Expresso glasses or much smaller cups ... Enjoy a glass of Cappuccino!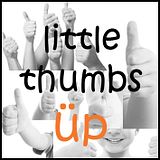 I'm submitting this post to Little Thumbs up
(May 2014: Milk)
organised by Bake For Happy Kids, and

My Little Favourite DIY

, hosted by Tze of Awayofmind Bakery House